Yesterday there was a pigeon on the balcony sitting on the bird house. The boys were outraged by that avian audacity.
Gestern saß eine Taube auf dem Dach des Vogelhäuschens, das sich auf dem Balkon befindet. Die Kater waren von dieser Unverschämtheit nicht sonderlich angetan.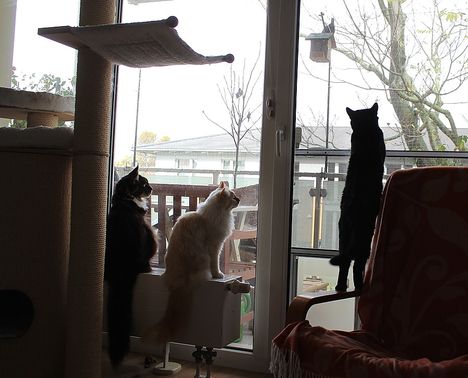 And then today, just as he was busy grooming, Birdie found himself eye to eye with that ballsy pigeon again. 
Und heute dann, gerade als Birdie sein Körperpflegeprogramm genoß, fand er sich wieder Auge in Auge mit dem dreisten Vogel.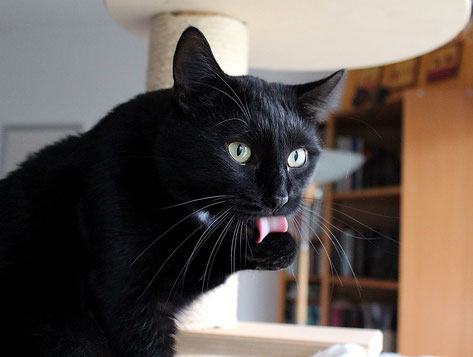 He could not believe that the bird really had the cheek to show up once more to mock him.
"What in the blazes...?"
Er konnte es nicht fassen, dass die Taube wirklich den Nerv hatte, erneut aufzutauchen, um sich über ihn lustig zu machen. 
"Was zur Hölle...?"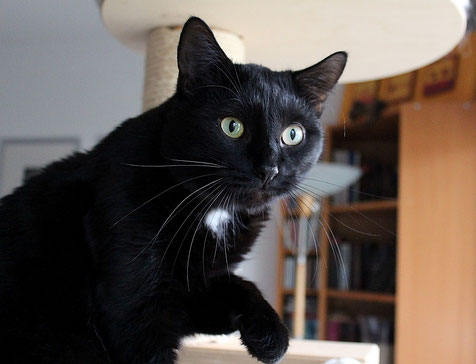 The nerve of that pigeon really got to him - so he had to meditate the rest of the afternoon in order to find his inner calm again.
Diese Frechheit musste Birdie erst einmal verdauen. Um seinen inneren Frieden wiederzufinden, verbrachte er den Rest des Nachmittags in stiller Meditation.